July 2015: Mwenyewe Dawan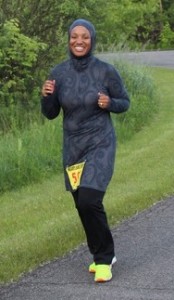 Dr. Mwenyewe (mwen-YAY-way) Dawan has been a smiling mainstay on the Mainly Marathon circuit for the last couple of years, always brightening the course whenever she joins us. She began her running/walking career in 1994 by participating in local fund-raising 5Ks, supporting such worthy causes as diabetes, lupus, and breast cancer research, as well as Walk for Hunger. She didn't start seriously running until 2008, when she trained for and completed the New Jersey Marathon. She did so to raise funds for the Leukemia and Lymphoma Society, in the memory of her father, an avid marathon runner who passed away due to colon cancer in 2003.
Mwenyewe's father was a big influence on her running and is never far from her thoughts when she is out on the course. She shared with me, "What I love most about running is the tranquility and quiet time to think and remember my dad. Sometimes I imagine what it might be like if he hadn't lost his battle with cancer. I'm sure he would still be running marathons. I wonder if I would be running with him. I wonder about all that he might have taught me about running."
Although she had a full plate with a full-time job, graduate school, and a husband and two teenagers at home, Mwenyewe still had the running bug. When she finished her doctorate in April 2014, she celebrated by running a half-marathon; soon, she set a goal of running halves in all 50 states, and has been rolling through them ever since. Her half-marathon count is now up to 37, in 31 states. She attained Sun status in Half Fanatics early this year, by running 30 halves in 30 states in a little under 11 months.
With her running and upbeat approach to life, Mwenyewe has been a positive influence on many, including her family members: earlier this year, her sister joined her for a half-marathon and her mother joined her during the Heartland Series, finishing her 1st, 2nd, and 3rd 5Ks. Mwenyewe has also encouraged many other runners she has encountered. She has such a engaging personality and friendly demeanor that you can't help but smile when you chat with her. One question she constantly fields, but never tires of answering, is about her running attire. She explained, "If you see me running, you may notice that I dress in modest running attire with only my face and hands exposed – everything else is covered; I wear long sleeves, long pants and a scarf covering my hair. This is a reflection of my religious beliefs as a Muslim (in the religion of Islam). In the summer, on a day when the temperature is 90 degrees with 80% humidity, the most frequently asked question about my attire is, 'Aren't you hot?' Well, yes, I'm hot. But I'm always proud to wear my modest attire and represent as a covered Muslim woman."
With 19 more states to go on her quest, Mwenyewe has plans to complete more Mainly Marathons events in the future. I asked her what appealed to her about our half-marathons, and she answered, "What I love most about the Mainly Marathons events is the sense of family and the endless encouragement from the race director, crew, volunteers and participants. Elite and novice runners and walkers encourage and support you from the moment you begin until your last lap. I love my Mainly Marathon family and look forward to seeing everyone again soon!" We look forward to seeing her out on the course again as well. She summed up her feelings by saying, "Be sure to say, 'Hello' if you see me on a race course! I'm always smiling and shouting encouraging words to other runners. It's all about having a good time and making great memories!"