October 2015: Don and Marion "Pops and Mops" Landry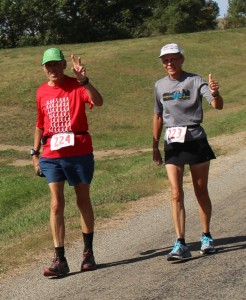 It is pretty easy to pick Don and Marion Landry out on a Mainly Marathons course (or any course, for that matter): they're almost always running together, always wearing the unique names "Mops" and "Pops"—nicknames they picked up while hiking the Long Trail in Vermont—on their bibs, and always smiling. When you run as much as they do, you can't help but have a good time on the course!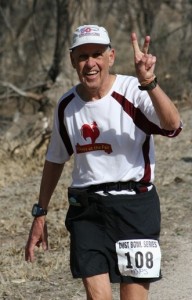 Beyond this Canadian couple's quick wit and jovial demeanor, you will find two very serious and accomplished runners. They both hold or have held numerous ACU (Association of Canadian Ultra Marathoners) records and have over 725 lifetime marathons/ultras between them. Don completed his first marathon in 1992, at the age of 47, and Marion joined him a few years later, running her first at the 1994 NYC marathon. Over the past 23 years of running, Don has accumulated 372 career marathons and ultras, while Marion has 354 to her credit. Along the way, Don has set Canadian records for greatest distance over a 10-day period at 907.67Km (564 miles); Marion holds records for 12- and 24-hour time spans, at 81.366K (50.55 miles) and 120.157K (74.66 miles) respectively. In 2008, both Landrys were ACU 48-hour road champions, with Don coming in at 231.869K (144.07 miles) and Marion finishing at 204.474K (127.054 miles). Together, they have also completed races in all Canadian Provinces and Territories, in addition to finishing all 50 states three times.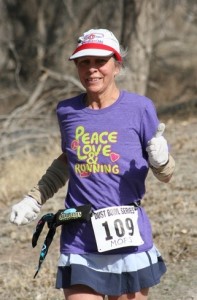 Now in their 70s, Mops and Pops show no sign of slowing down. They are nearing completion of the States for a 4th time and have a future goal to finish a 5th time. For added fun, they would both like to complete an Ultra in every state. They have run 18 Mainly Marathons races so far this year, and will be attending this month's Appalachian Series, which will give them each 7 more. Completing those will give them Mainlyner status of 25 races apiece, thus earning them each another award for their trophy case. I asked them what keeps them coming back to Mainly Marathons, and they said, "What we enjoy most is the people. We like exchanging greetings on the out and backs and telling of tall tales. All the hugs from Mary (Hartley) are also a big plus!" We enjoy seeing Mops and Pops out on the course with us, and hope that when you come across them you will exchange some tall tales of your own to add to the lore.
---