---
Check this out!
Riverboat 2017 participant Ted Watson loved the experience so much, he got a tattoo to permanently commemmorate it!
Way to go, Ted!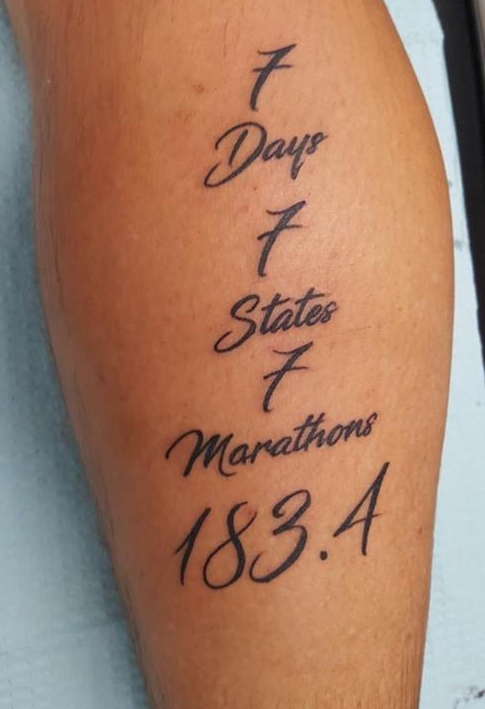 ---

Here's a beautiful quilt one of our frequent runners made from her Mainly Marathons series T-shirts!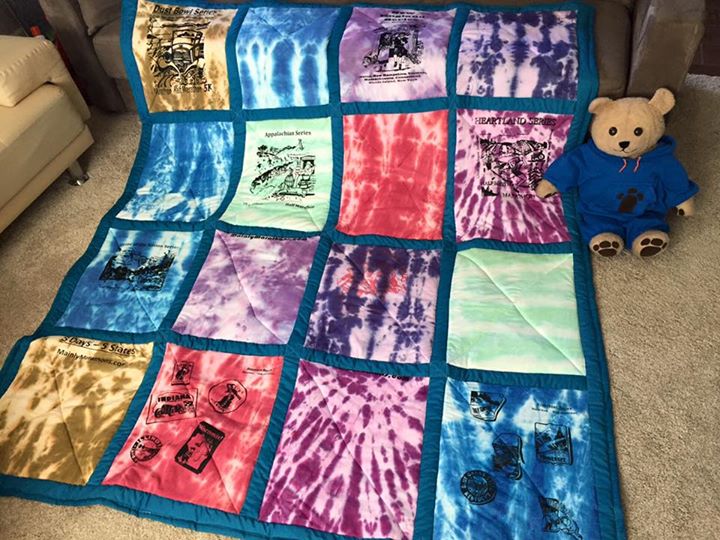 ---
People are loving our multi-day race series! Below are just a sampling of comments from participants in some of our previous series…
---
"I never thought I would like a short out & back course, but that turned out to be one of the best parts of this series. All of the interaction with other runners made this event very social and so enjoyable. All of the encouragement from other runners was incredible. The whole tone of this series was almost like a team effort. Thanks for such a great event!!!!"
---
2017 New England Series:
"Yes! What a great race series……'Princess' will be back to run another series!" -Tonia Easterling
"Thanks so much!!!!!!! We had a great experience and are so thankful to all you guys put on! Can't wait till the next one!!!!" -Dawn Marie
"So glad I stopped for one day (NH) to see what it was all about before I tackle all 7 days at Heartland!" -Shelby Hall Jones
"Had a great time in my first series with you- here's to the next time." -John Kennedy
"Thank YOU and the crew! You make races fun and friendly. See you soon!" -Cecilia Harris
"Thank you! We had a blast!!" -Ann Marie
"Thank you!!! It was absolutely wonderful. I keep thinking about the french toast on Monday. Amazing!" -Lisa Schamus
"Can't tell how much I appreciated your whole crew and the series I've run so far – job well done!" -Tim Lyke
"Your support was phenomenal. Thank you all so much for putting on such great races. I can hardly wait to run with you again!" -Maureen Mullins
"I just wanted to drop you a note regarding the Mainly Marathon – New England Series – Connecticut; this was my first event with your group and it was AWESOME!!!! I did the half marathon in Simsbury and quite honestly, I was concerned I would be bored with a 2 mile back and forth loop, but I found myself mingling with other runners and building a camaraderie by just passing by in most cases! And the food… AWESOME!! I kept thinking during each loop, 'Hmmm what will I snack on next?' LOL thoughts would cross my mind, like how did they choose the food they chose and how clever some items were to help the runners – maybe for cramps, maybe for a bit of sugar… you thought  of it all and although, I only ran the Connecticut race, I will be back for more Mainly Marathon events!! You all rock and I thank you for visiting Connecticut!! Till next year my friends!" -Brenda Scully
---
Appalachian Series:
Open letter to all of those that ran/walked in, organized or supported the runners in the Appalachian Series:
As a "Rookie" that just completed his first "Mainly Marathon" Series, I've been following some of the post-commentary and didn't want too much time to pass before I threw in my two cents. For all of you "Veterans" of past Series, you might have asked yourself somewhere along the line this week, "I wonder what people that are doing this for the first time think of the rest of us?". Hence, the reason for my post.
I have to acknowledge I went into these 5 days signed up for the Half Marathons with my eyes wide open not knowing what to expect. I mean, go ahead, Google 'Training Plan for running 5 Marathons/Half-Marathons in 5 Days' and let me know what you get. I'll save you the time. Nada, nothing, zip-o-la.
It's not like I haven't done back-to-back Half-Marathons before on a Saturday/Sunday weekend, but 5 days? In a row? All of my running friends and family thought this was completely nuts.
My biggest concern is that I would be running with a bunch of elite marathoners/half-marathoners that eat 30 milers for breakfast and have no time to talk to or spend time with mere mortals like myself. 'What if I get stuck with a bunch of running snobs?', "What if I fail half way through the week?' were just a couple of thoughts that crossed my mind before getting on the flight to Charlotte. When you're running an event like this, these thoughts are just normal. But, boy, I couldn't have been more wrong.
I know I don't have to tell any of you this, but this is what I found. What I found were some of the greatest people that have ever graced the running/walking community. At the races, the hotels and the dinners each evening, everyone was so accommodating of the 'rookies'. You willingness to share insights of what you've learned from running these in the past and the encouragement you provided before, after, and during the races, showed a 'spiritual' side to running not found in the big or small races. I absolutely loved the fact that we have runners that just started doing marathons in the past year all the way up to 1,000 (plus) marathoners in this series.
It was my experience through the week that as the number of days spent together increased, barriers got broken down. We all went beyond the physical, mental and spiritual barriers that runners experience in a one race on a weekend setting. We got to tap into the metaphysical limits that our mind has placed on us, to a place where you go beyond not only your individual experience, but to that place that wants everyone to have a great experience. And the best part is that you get to share it with them.
My wife asked me to describe what the five plus days were like. I told her, "It's was like "Field of Dreams" for runners/walkers that just love this sport. And this past week, I got to play 'Moonlight Graham' as the Rookie that they allowed to come in and play.'
I think if I had any regret over anything about this last week, it was the fact that I scheduled my flight so close to when I had to finish, that I had to leave right after my Half Marathon on Wednesday. I wish I could've stayed to see all of you come in.
Well, I've got to finish all this rambling I'm doing. You're probably wondering 'So, get to reason for your post, what did you think of all this?' In short, you people are all part of some freaking crazy running club. But it's a GREAT kind of crazy.
And I want in.
Plan to see me at a 2015 Series.
Sincerely,
Jim "Moonlight Graham" Reimann
---
Center of the Nation Series:
"I had a blast running the last 3 days of the series! Thank you to all of the volunteers who made this such a unique and fun experience, and extra congratulations to those of you who completed all 5 days … just plain AWESOME!!!" -Laura Bowman Gorycki
"A huge thank you for an awesome series. I had the time of my life! And now to plan Dust Bowl and Heartland." -Maryann Buma
"Thank you all for another fantastic and memorable experience. I love these series and all that you do and represent. You guys are the bomb digg-i-deee!!!" -Carolyn Moore Zakrzewski
"Thanks for all of your hard work! This was my first series and the experience was amazing thanks to all of you." -Jonathan Puchalski
"I just wanted to tell everyone how much I enjoyed this race series! These were some of the nicest people I have ever run with!" -Moira Catherine
"I just wanted to thank Clint and all of his helpers for putting together the best race series ever!! We had a great time seeing old friends and meeting new ones. Everyone is so encouraging and helpful. I can't wait to do this again. It looks like the next series we will be able to do is Independence – so I hope to see you all there!!" -Kathy Lucas Wehnes
" I just looked at my planning calendar,without knowing about these series earlier this year, I had blocked SD for next month on my calendar. And guess what, not only do I have SD done, but I have WY and MT. I can't wait to participate in the upcoming series in Oct. And will plan for the Apri-May and Aug to chalk off almost 75% of my remaining 50. Thanks so much for putting these together. Not only am I saving myself time, but A LOT of money." -Kim Groshek
"Thanks everyone that made CONs 2014 so amazing! An amazing event run by great people in stunning locations!" -Douglas Wilson
"A year ago I had a spinal fusion and could hardly walk two laps in my hallway. I thought the CON series would be a perfect way to celebrate my recovery and a year of walking. My expectations were superseded!! I'm in love with the series, out and backs, and all of you! I'm so happy I did this and I can't wait to see you again! I ran the last mile to kick off my return to running! Thank you all so much for this opportunity! Everyone's a massive legend!" -LeAnne Tracey
"At the risk of sounding redundant, I truly mean it with all sincerity…thank you; I had the most fun ever while running. The Water Goddess and The Dancing Food Table Ladies never failed to make me smile. I truly enjoyed getting to know the other runners and dear friends I made along the course. Looking through the pictures is so much fun. This was my first series and I hope to see you next year, and I'll definitely be volunteering when you all come to PA. Thank you for the experience; I'll never forget it." -Carole Harvey Renninger
"We had a great time at CON and we are considering The Heartland series in June of 2015. You guys were awesome and we met some of the most amazing supportive individuals. It's nice to be in the company of people who don't think you are insane and support you in your quests for greatness. Keep up the great work. You did fabulous job! Perhaps we will see you again when we are on our 2nd go round of 50 states." -Jen Mason
"Thank you to everyone who organized, volunteered, ran/walked, cheered, etc. My first Mainly Marathon series will definitely not be my last – I had so much fun and met so many wonderful people. A special thanks to my wonderful roomies Karen, Mary, & Edna!!!" -Nancy Weaver Pratt
"Had a super fabulous time at the Center of the Nation series. Saw many familiar faces and met new friends along the way. Special shout out and thanks to Clint Burleson and all of the volunteers…your hard work made all of this possible. Will see you again!" -Lori Wisner Nolte
"Thank you to the entire CON group and Mainly Marathons! Seriously the best group of people that we can now call family! You are all the best!" -Jamie Jo Rost-Robinson
---
Riverboat Series:
"Running to the sun: 65.5 miles at Riverboat with Mainly Marathons" (link) -blog post by Michelle Dusseau
---
Center of the Nation Series:
"One of the very best running experiences I have ever had; top drawer all the way!!"
"I just couldn't imagine what it would be like ahead of time…exceeded all expectations. So many details
covered, so much caring for each of us, so many smiling faces, so much respect for everyone regardless
of pace…cheering for the leaders, cheering for the cabooses, food for everyone. It was a magical
experience with an inspired vision."
"I never thought I would have such a BLAST doing it! It was a new challenge for me but it ended up being
so much more than that. The interactions with the other runners was great. You feel like you made a whole new huge group of friends. You and the crew do an unbelievable job of tending to every detail."
"Thank you so much for the experience of a lifetime :-)"
"Such a unique and special experience. I admit that I signed up just to check off some states but when I
think of the past week all I think about are the faces, smiles and high fives from fellow runners from all
over the country and the world!"
---
Dust Bowl Series:
"Words cannot describe how much I loved loved loved the Dust Bowl. Thanks again for making such an
unforgettable experience happen for so many of us." -Tracy, Canada
"Your race 100% successful! I can't praise you enough!" -Chuck, USA
"Words cannot describe how amazing the entire Dust Bowl experience was for me and I am forever changed
-all for the better!" -Denise, USA
"I just wanted to drop you a line to say a very big thank you for putting on a fantastic event, I enjoyed
every day of the Dust Bowl Series. I was made welcome by everyone." -Richard, England
"We really were thrilled and impressed with the support from the volunteers." -Murray, Canada
"Thanks for an incredible 5 days/races! We will definitely be back for more!" -Renee, USA
"Thank you for a great week of running and fellowship … The volunteers were wonderful, the logistics
were well planned." -Larry, USA
"Food was the best ever!!! Well done and thanks to all the volunteers who were excellent!!!!!!" -David, USA
"I had never done a short loop… First I thought it was going to be boring. After my experience in those
two races, I think I liked it. I like the idea of having an aid station at the same place and distance." -Tony, USA
Want to read more? Come join us on

Facebook

and see what all the buzz is about!