April 2015: Danny Hartley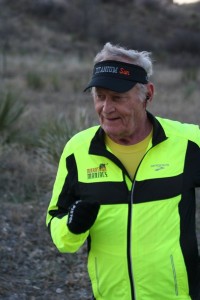 Danny Hartley has been a participant in many series over the past three years, starting with the very first Dust Bowl in 2013. During 2012-13, he was on a mission to complete 52 half-marathons in 52 weeks, and Mainly Marathons fit nicely into those plans. Completing a half-marathon every week on average is quite a lofty goal. Danny met and surpassed it, opting instead to run 66 halves in the year to match his age. That was an impressive achievement, made even more remarkable by where he started his running career.
At age 60, his doctor told him he was in terrible shape (which he knew), and that he was obese and at risk for diabetes (which he did not know). Danny decided right then to change his lifestyle, starting with eating better and exercising more. He began on the treadmill, then quickly took up speed-walking. He dropped nearly 100 pounds, and has been able to maintain that weight for the last 7 years. Danny entered a 5K as a speed walker, and quickly graduated to half-marathons and now full marathons.
He reached sun level as a member of Half Fanatics and attained titanium level in Marathon Maniacs in 2014, one of only ten runners to do both. Danny has set even loftier goals for himself this year: his plan is to run a marathon in every state this calendar year, and he is off to a good start, having completed 9 so far. If everything goes as planned, he will hit number 50 at the Las Vegas Rock'n Roll Marathon in November. Mainly Marathons will play a big role in realizing those numbers, as he has signed up for marathons in 40 states this year. We wish Danny the best and will be with him every step of the way. When you see him out on the course, be sure to say Hi!