Check out this exciting new 50-states club for all the "other" distances, from 5K to 100K and beyond!
---
All of our races now include a 50K option, with a time limit of 8:30. Just register for the marathon and supersize at packet pickup for $10!
---
Did you get your FREE race from Mainly Marathons?
If not, register for one race and get your next race of equal (or less) distance FREE, OR just buy one race at half-price!
One FREE or half-price race per customer who has not already had a free race. This applies to all of our race distances and may be redeemed up to 30 days before race day.
For details email Clint@MainlyMarathons.com
---
Are YOU a Mainlyner?
If you participate in Mainly Marathons events, you are, and we want to reward your efforts!
Click HERE or on the image below to learn how to earn handmade, custom awards by joining us for multiple races!
And click HERE to view our top Mainlyners!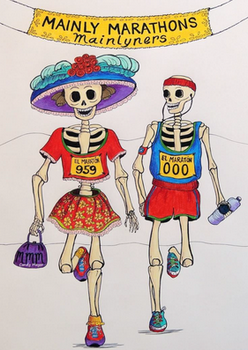 ---
You can find our race calendar HERE. Just pick out your desired free race, one at least 90 days away, and send in your registration form.
If you have any questions, please contact us!
Still on the fence? With over 50 events in 40 states, we are sure to be coming to a course near you. Check out these testimonials from some of our veteran runners!
Thousands of happy runners agree, Mainly Marathons is simply the best marathon series on the planet!

---
See you on the course!
---
You've seen them out on the course. They rarely win, but you always see them out there running, and running and running. And sometimes walking.
These events were inspired by and designed for them, and for those who just want to run long and run often.
Whether you want to participate in one marathon, half-marathon, or 5K, pick up a couple of new states in your quest to finish all 50, or you want to take the ultimate challenge and run every race in a series, we encourage you to join us. Walkers are just as welcome as runners: none of our races have a time limit, and you never need to worry about whether you'll make it before the course support has packed up and gone home. (In fact, we have become famous for celebrating last place in every race with the now-coveted caboose!)
Mainly Marathons puts on a race series like no other, from the unique course setup to the unparalleled spread of food and drinks to fuel you on your journey, all mixed with a sense of fun and family you just won't find anywhere else.
Check out our schedule to see where we'll be, then sign up on our simple registration page.
Feel free to contact us if you have any questions.
Cheers!



Clint Burleson, founder and race director

Series
States
Dates
Appalachian
WV, VA, TN, NC, SC, GA, AL
Sun, Oct.9-Sat, Oct.15, 2016
Day of the Dead
Las Cruces, NM
Sat, Oct.29-Sun, Oct.30, 2016
Southwest (New for 2016!)
UT, NV, AZ, CA
Mon, Nov. 14-Sat, Nov.19, 2016
Aloha (New for 2017!)
Kaua'i, HI
Thu, Jan. 19-Sun, Jan.22, 2017
Dust Bowl
TX, OK, KS, CO, NM
Wed, Mar.22-Sun, Mar.26, 2017
Riverboat
LA, AR, MS, TN, KY, MO, IL
Mon, Apr.10-Sun, Apr.16, 2017
Independence
DE, MD, PA, NY, NJ
May 1-5 (possibly Apr.29-30 as well), 2017
New England
ME, NH, VT, MA, RI, CT, NY
Sun, May 14-Sat, May 20, 2017
Heartland
OH, MI, IN, IL, IA, WI, MN
Sun, May 28-Sat, June 3, 2017
Prairie
MN, ND, SD, IA, NE, KS, MO
Sun, July 16-Sat, July 22, 2017
Northwest
OR, WA, ID
Sat, Sept.2-Thu, Sept.7, 2017
Center of the Nation
MT, ND, SD, WY, NE, CO
Mon, Sept.12-Sat, Sept.17, 2016
Click to view and print our full calendar.
We reserve the right to refuse registrations from particular people.