Aloha Series: January 18 – 21, 2024
4 days on the Garden Island of Kaua'i, in beautiful Hawaii!
Series dates: Thursday, January 18-Sunday, January 21, 2024
Location: Kapa'a, on the island of Kaua'i, Hawaii
Race times: 4:30 AM HST for Marathon, 50K, and early Half-Marathon; 7:30 AM HST for 5K, 10K, and late-start Half Marathon.
Course description: The races will take place in a park, on a bike/walking path that does not cross any roads. There will be first aid-certified personnel available at all races. Runners will pass the aid station with food, drink, and first aid every 2.2 miles.
Packet pickup: January 17, 2-4 PM, at the Smith Family Garden, 3-5971 Kuhio Hwy, Kapaa, HI 96746. The Smith's Garden Luau will take place at 4:45 that evening. See below (under "Activities") for details.
Race day packet pickup/registration: Beginning at 4:00 AM on race day, at the start line.
Average temps: Low 65/High 78
Course description:
Days 1 and 4: Smith Family Garden, 3-5971 Kuhio Hwy, Kapaa, HI 96746

GPS (map): N 22.04617, W 159.34148
Course: Paved path through a tropical garden; out then back
Laps: 16 for marathon, 1.64 miles per lap (subject to change).
Elevation Gain (per lap estimates by Garmin): 7′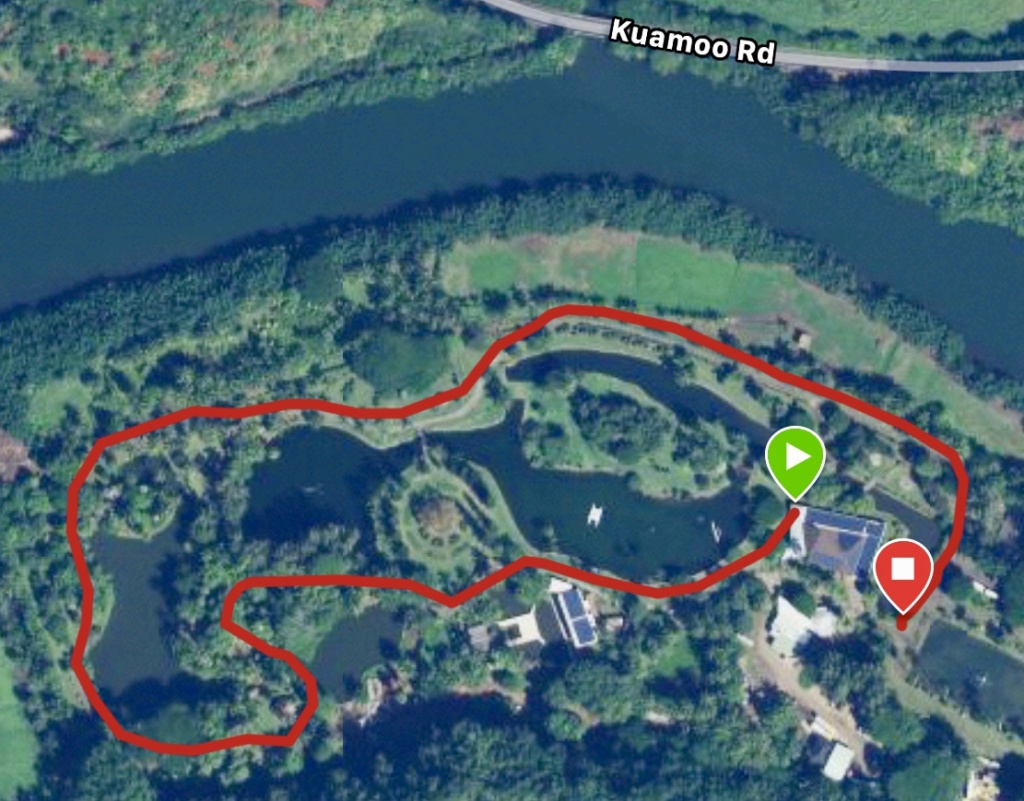 Days 2 and 3: Kapaa Beach Park, Niu Str. (From Kuhio Hwy, turn toward the ocean on Niu Str., go two blocks)

GPS (map): N 22.07632, W 159.31649
Course: Paved running path along the ocean
Laps: 12 for marathon, 2.2 miles per lap (subject to change).
Elevation Gain (per lap estimates by Garmin): 26′
NOTE: This course is 3 miles from the Smith Family Gardens.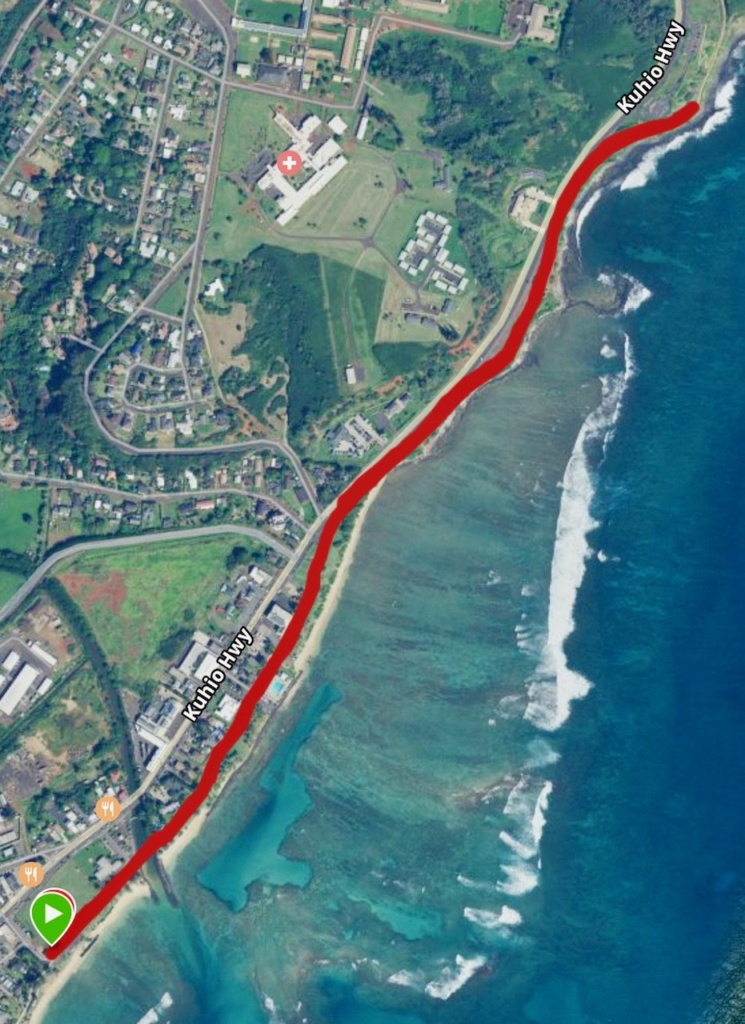 Time limit: None for the marathon, half-marathon, or 5K; 50K time limit is 8 hours, 30 minutes. Walkers are always welcome!
Pets/strollers: Pets are not allowed, for the safety and comfort of our runners/walkers; you're welcome to bring a stroller if you have small children.
Discounts: $10 per day discount on marathon/half-marathon for active military and members of any running club that includes these races in their calendar. One discount per person.
Food/aid stations: Due to our unique course setup, we have one giant "aid station" that runners will encounter every 2.2 miles, with more food and drink than you could ever need! Ask anyone who's run at least one of our races; we've got everything from fruit to jelly beans to sandwiches, water to Gatorade to hot coffee, and everything in between. Way more than just granola bars and bananas!
What about the bling?
We all know that's the best part!
Every participant will receive one t-shirt.
All finishers will receive a separate medal for each day; in addition, we give a special medal to those who complete all races in a series.
Activities on Kaua'i:
Smith Family Luau
The Smith's Garden Luau (voted Best on the Island) starts at 4:45 on January 17 and our host and fellow runner, Kamika Smith. Please contact Kamika Smith for reservations and mention that you're with Mainly Marathons.
Email Kamika at kamikas@aloha.net to receive the discount pricing.
Tropical Garden (Our course for days 1 & 4)
Aloha Images: Kauai's favorite art gallery since 1995; Owned by fellow runner Ray Charron.
Registration information is below. You may do any number of races; special medals are awarded to those who survive all 4 days!
Kapa'a HI (Island of Kaua'i) – January 18-21 2024

Race type
By 7/31/23
8/1/23-9/30/23
10/1/23-11/30/23
After 12/1/23
Full
$140
$145
$155
$165
Half
$125
$135
$145
$155
50K
$150
$155
$165
$175
10K
$60
$60
$60
$70
5K
$50
$50
$50
$60
Register Online: 

HERE!!

Mail-in Registration Form: 

HERE!!

$30 discount per day for residents of Hawaii on the marathon and half.
Only one discount per person per day.
You may also register during packet pickup or on race day (cash/check/credit card/PayPal). Entry fees are non-refundable and may not be transferred to another participant. Prices are per race.