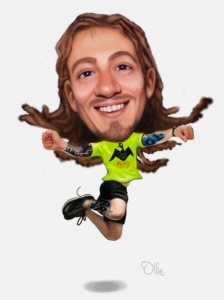 Daniel Rueckert
I've been very active throughout my life; however, I didn't start endurance running until I was in graduate school. My first marathon was the Twin Cities Marathon in 2011. It was quite the experience, and I remember every step of the last six miles being so painful. I told myself, like many others, "never again". That stance was short-lived and I registered for another marathon only a few days later. I haven't slowed down much since then.
One of my favorite things is when my family and the Mainly running family overlap; usually a couple times a year, my wife Jen and our kids join in on fun!
Prior to Mainly Marathons, I worked in the mental health field for over ten years as a licensed mental health therapist and addiction counselor. I enjoyed working in the mental health field, but I jumped at the opportunity to put on races for such an amazing community of runners. I'm humbled by the opportunity to be surrounded by so many accomplished runners and the wonderful spirit that they bring to the course.
Marathon Maniac #13842
Half Fanatic #16367
Double Agent #2997
Completed a marathon in all 50 States with Jesse in 2019.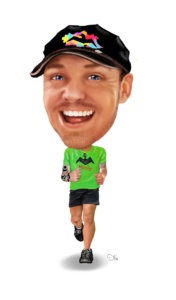 Jesse Rueckert
I am from Central Minnesota and have lived in the land of 10,000 lakes my entire life. In 2009 I started running for enjoyment and not just for the purpose as punishment for other sports, i.e. killers, wind sprints, etc. Running was a healthy outlet from my job in the chemical dependency field in which I worked for nearly 15 years before transitioning to this new opportunity. I ran my first three marathons in the span of four weeks. Looking back that does not seem like such a crazy feat, but at that time I had a different mindset. Even now with having run several series with Mainly Marathons, I am truly amazed at the running accomplishments of this group. I realize this is my running home, where "loonacy" seems normal.
Family has always been a top priority for me and I am grateful that Mainly Marathons allows me to work alongside my brother and with my wife Katie. Although Katie retains a career as an RN, she is very supportive in this new adventure and hopefully you will get a chance to see her at some of the series cheering on all of the runners.
Marathon Maniac #13850
Half Fanatic #16300
Double Agent #2966
Completed a marathon in all 50 States with Daniel in 2019.
Katie Rueckert
I am the wife of Jesse Rueckert. In my day to day life, I am a registered nurse. You may see me out on the courses doing various jobs when I can sneak away for a running adventure with Mainly Marathons. My running journey does not stem from placing one foot in front of the other, but more so as a cheerleader and supporter of those who have a passion for running. My favorite thing about Mainly Marathons is seeing people from all walks of life accomplish these amazing running goals and getting to be a part of their journey.
Clint and Hanne Burleson
The founders and original race directors of Mainly Marathons, Clint and Hanne now act as consultants at our events. Clint can also often be found out on the course, completing his own running goals! Clint and Hanne are also busy hosting races in New Mexico with their running company – Dead Running!
Vicki Williamson (crew emeritus)
Vicki, Clint's sister, worked with Mainly Marathons from its inception through 2014. Sadly, Vicki has passed away.