August 2015: David Bayley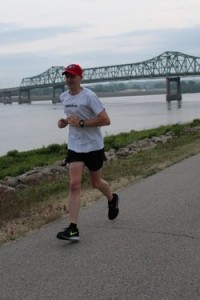 David "Foxy" Bayley hails from Milton Keynes, UK, and has been a favorite on Mainly Marathon courses since 2013. To date, he has completed 17 full marathons over three Mainly Marathons series (CON 2013, APP 2014, Heartland 2015). Running a full series is hard enough, but when you throw in the 5+ hours of travel time from the UK to the US, then connecting flights, it becomes a real challenge. Foxy (as everyone calls him) has met these challenges and tamed all the courses, usually with times in the low-4-hour range.
David had a unique start to his running career, and it came about quite by accident: in 2005, he entered a competition to win a trip to New York City that would coincide with his birthday. Well, he won that trip, only realizing later that the prize included entry into the New York City Marathon. He started training in May and ran the race that November, his first race of any distance. Foxy has not slowed down since then, having completed 225 career marathons as of this writing.
Although he started running by accident, David was an accomplished world-class athlete well before he stepped foot on the NYC marathon course. He was a second baseman, center fielder, and catcher with the Milton Keynes Truckers in the British Baseball Federation in the 1990's, the equivalent to Major League baseball in the States. He started the first triple play in the league's history and led the Truckers to the National title in 1995.
There are always mountains to climb in this sport, and David still has some ambitious goals he would like to achieve in the future. The first on that list is to complete all 50 states by the time he turns 50, and with 29 down and 8 years to go, it should not be a problem. Next, he needs three more continents (Australia, South America, and Antarctica) to complete his 7-continent quest. Although he has already run both New York and Boston, he would like to return and break 4 hours in both, which would give him a sub-4 in all the World's Major marathons. One more thing he would like to accomplish is to hit 300 career marathons and and get his name on the World Mega ranking list. I have no doubt he will attain all these goals on his bucket list.
I asked David why he keeps hopping the pond to run our races. He responded, "The people at the Mainly Marathons events always make me feel so welcome, which as a foreigner is really special & makes traveling 3000 plus miles worth it every single time, I meet new wonderful people every single series & get to see friends who have become very special to me." Everyone loves to see Foxy on the course as well, and will have another chance when he joins us again next year for the New England Series.
When you see Foxy on the course, start up a conversation about running, baseball, or really anything else and you'll enjoy a fun few miles with this great gentleman and fantastic runner. He loves to talk and joke, and generally enjoys getting to know everyone while he runs. Make sure you say hi to this loveable Brit!