January 2015: Bettie Wailes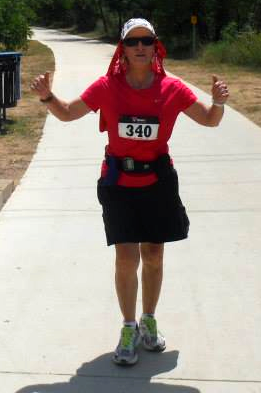 On December 29, 2014 Mainly Marathons veteran Bettie Wailes became just the 5th woman in the world to ever complete 100 marathons in a calendar year. She joins fellow Americans Yolanda Holder, Parvaneh Moayedi, and Angela Tortorice, and Italian Angela Gargano in this exclusive club. At the age of 70, Bettie is the oldest to accomplish the century mark.
Bettie finished marathon #100 at the Savage 7 Series in Florida, closing out 2014 with a total of 102 marathons. Among those, 26 were completed at Mainly Marathons events. She ran at least one race in each of six series this past year: Dust Bowl (1), Riverboat (5), Heartland (5), Center of the Nation (5), Appalachian (5), and Day of the Dead (5). I asked Bettie how important those series were to her quest. She said, "I couldn't have gotten this many without Mainly Marathons. To get high numbers you simply have to have weekday runs." Bettie continued, "And they are the best race crew in the world."
With the 102 marathons in 2014 added to her previous races, Bettie stands just two shy of joining the exclusive 300 lifetime marathons club. She predicts she will hit that mark at either the Mississippi Blues Marathon on January 10th or at the First Light Marathon in Mobile, AL the next day.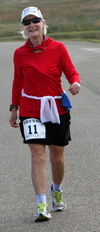 Like most marathoners, Bettie didn't start running to set any records or complete 300+ marathons. She started running around her neighborhood, and later was "talked into" running a 5K by a co-worker. Slowly, Bettie upped her distance and endurance, and in January 1993 ran her first Marathon in Jacksonville, FL. After that, she picked up a few marathons per year here and there, all the while gaining support, friendships, and most of all confidence about her running. Running a large number of marathons had once seemed impossible, but now she came to believe that she could take on the challenge. Bettie joined the 50 State Marathon Club with that goal in mind, and when she hit lifetime marathon number 37, the idea of 100 career marathons started to creep into her head.
Bettie achieved both of those benchmarks, completing the 50 State Club goal with the Flying Pig Marathon in Cincinnati in May 2010 and her 100th career marathon at the Ocean Drive Marathon in New Jersey in March 2011. From there, she upped her pace, covering nearly100 more marathons over the next two and a half years. Bettie really stepped it up in 2014 with the aforementioned 102 marathons. I have a feeling that she won't be slowing down anytime soon!
Mainly Marathons would like to congratulate Betty on this tremendous accomplishment, and we are looking forward to seeing her out on the course many times this year. If you ever happen to run a race with this awesome lady, please say hello; you will be glad you did. You would be hard pressed to find a nicer, kinder spirit out on the course. She will usually be with her running partner and sweetheart Jim Simpson, both wearing their trademark red.