June 2015: Hoberto Serrano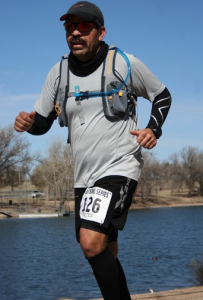 Hoberto "Paco" Serrano, Jr. has been a fixture on the Mainly Marathons circuit in 2015, having completed 15 full marathons starting with the Dust Bowl Series in March. His goal is to finish all 50 states before he turns 50 on January 25, 2016; that includes running in many more Mainly Marathons events. This quest started on his 49th birthday with the Miami Marathon in Florida. Since then, he has finished a marathon in each of 18 states.
Paco didn't start running until 2003, at the age of 37. He was out of shape, weighed in at 260 pounds, and knew he had to do something drastic to stick around and watch his children have kids of their own. His doctor told him as much, and he started getting serious about getting fit. Paco is a very determined man who was not afraid of the hard work ahead of him. His first goal was to be able to keep up with his son, who participated in high school track. He dropped 100 pounds, then started running 5Ks, then full marathons, and eventually ultras. Along with all of his marathons, Paco has completed 7 fifty-mile runs and two 100-milers.
When asked why he participates in so many Mainly Marathon races, Paco replied that he "loves them" and that "we are just one big family." That is true out on the course and on the sidelines. His wife is always waiting for him along the course with gels, water, or whatever else he may need, and always with a smile. Paco doesn't see himself slowing down after he completes the 50 states this year– there is always another mountain to climb and goal to obtain. There is one thing he would like to see more of in the running world though: participation from more minorities, particularly of his own race. He says, "All of my friends think I'm crazy, and none of them get out and run. I would like to see more Hispanics get out and run and get healthier." Paco is a great example of what someone can do when he puts his mind to it, and is a great inspiration for runners everywhere. Next time you are out on the course with him say hi, you'll be glad you did… if you can keep up with him, that is. Paco finishes most of his races in under 5 hours, and has three times this year broken the 4:30 mark 5 times. Great work, Paco!