May 2015: Lara Gonzalez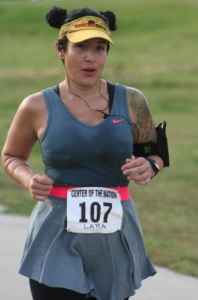 As a child in Puerto Rico, Lara Gonzalez always wanted to run, but didn't think that was an attainable goal. Running was what "other people" did and you had to be born a runner, like some people are born singers. Not until she was 27 and a little heavier than she wanted to be did she lace up her shoes for the first time. Lara explained, "I found myself weighing 40 extra pounds. I decided I would make myself learn to run. I started walking 5 minutes, running one minute and kept increasing it as I felt better and stronger. The weight started coming off and I fell in love with running." That humble start led to running 3 miles a day, then 6, and eventually competing in 5Ks and 10Ks. She moved to New York City and witnessed the NYC Marathon first hand, deciding right then and there that she had to run it. In 2010, Lara ran her first marathon in New York City; like most of us, she swore she would never run another.
Fast forward five years, and Lara has now completed 85 marathons and ultras, including five 100-milers. She said, "I cannot believe I've been able to come this far!" She ran her first series with Mainly Marathons at the Center of the Nation Series in Sept. 2014, and her second at Dust Bowl this year. She summed up her Mainly Marathons experience thusly: "I LOVE these races! They are so much fun! You meet so many amazing people and the camaraderie is incredible! You start the week as strangers and end as a family! The Mainly Marathons staff is absolutely wonderful! You get such a personalized experience. They know your name, they cheer you on day after day. It's absolutely amazing. Another thing I love about these series is that they take you to places you would never go on your own. Absolutely beautiful and breathtaking places so full of history! I loved all the locations and towns. You definitely get to experience the real USA!"
Lara would like to continue running injury-free and enjoy the ride for as long as she can. That includes running more series in the future. At first, like a lot of people, she was worried about running so many loops on Mainly Marathons courses, but (again, like most people) she fell in love with them. "Initially I was wary of the races because of the looped course. I thought I would be bored out of my mind, but the opposite is true for sure! The fact that you are running loops is great because you see your friends over and over so you are definitely entertained. I cannot recommend Mainly Marathons enough! Best way to get your states, best way to make new and wonderful friends, great food, great locations. I promise you will have the best time ever!"
If you see this bundle of energy out on the course, make sure you say hello. Most likely, she'll be wearing her hair in Mickey Mouse buns and have a huge smile on her face. With her charisma and enthusiasm for running, the miles will fly by!