November 2015: Tim Hardin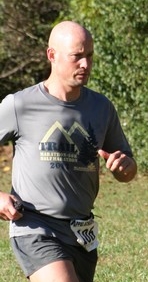 November 11th is Veteran's Day, and Mainly Marathons would like to salute all of our runners who have served our country. We are honored to have three veterans on our staff: Norm Duesterhoeft, Army; Mark Parrotte, Army; and Jeff Burleson, Navy. We've also had a number of current and former military join us over the last three years, and would like to thank all of you for your service, and for joining us on the course. This month's spotlight will highlight one such runner, Tim Hardin.
Tim joined the Marine Corps out of high school in 1998 and reluctantly started his running career. He claims he was not athletic at all growing up and never played any sports. That changed quickly when he joined the Corps: "That's where I started running, only because they made me," he said. "Fitness is the most basic requirement in the military." He got a steady diet of six-mile runs in boot camp, and considered those to be "ultras." After graduating from basic training, he became a military K9 handler, a job that required considerable athletic conditioning.
After six years of active duty with the Corps, he joined the Air National Guard and and became a Biomedical Equipment Technician. He then cross-trained to become a Flight and Operational Medic. In between multiple overseas deployments to the middle east over the past several years, he attended college and earned a nursing degree.
Somewhere between college, deployments, and life in general, Tim started to do serious endurance runs. His first organized run was carrying the torch for the Special Olympics Law Enforcement Torch Run. Since then, he has participated in many marathons, ultras, and Ironman competitions. Last year, he completed twenty runs of marathon distance or longer, including the New Zealand Ironman and the full Appalachian Series. Along with his running partner Amanda, Tim completed what they called a "fiddy sammich," which consisted of a 50-miler, two 50Ks, and another 50-miler in six weeks.
This year, Tim feels he has slowed down, as he "only" has completed one 7-day marathon series and Ironman Canada. He is headed to Mexico over Thanksgiving to take part in the Ironman Cozumel. He has already signed up for another Ironman next year (Lake Placid), and would really like to train for and complete a double Ironman.
I asked Tim what he likes about running, and especially Mainly Marathons' events. He answered, "The thing I love most about running is the feeling of the wind in my hair…" (Those of you who have seen Tim out on the course might have noticed he's bald.) Along with tremendous athletic ability, he also has a great sense of humor: in the torrential downpour that was the South Carolina marathon during last year's Appalachian Series, he donned flippers, goggles, and a swimming cap while running the marathon. It was a bright spot in an otherwise very wet and gray day. On a serious note, though, he enjoys the social aspect of the Mainly Marathon series. He said, "At the big runs everyone is there for themselves. The short out and back loops of the Mainly runs makes it possible to see even the fastest runners a fair amount. But, for me, the good times are in the middle and rear (of the pack)."
Next time you see Tim out on the course, make sure you thank him for his Military service and run a lap or two with him. He is one of the good guys who make Mainly Marathons fun, entertaining, and great!
---