August 2016: Rima Woo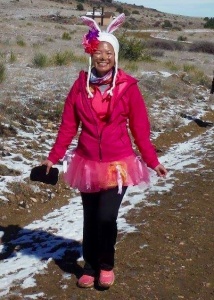 The very first thing you should know about Rima Woo is that she IS a Magical Unicorn. If you don't believe me, ask her, and then everyone running with you. Adorned in glitter and sparkles, riding a rainbow, and always wearing an amazing smile, she is truly one of a kind. But don't let the fancy skirts and neon running shoes fool you; this MIT graduate is one of the brightest people on the course, both inside and out.
Like a lot of us, Rima was a reluctant runner. She told me, "I hated running. Running back and forth on the tennis court was too much. Running was punishment. Running a marathon… that is just a
stupid idea." That belief was affirmed when she volunteered for the Big Sur Marathon, where she "spent the day watching runners come in completely spent, muscles twitching like there were little aliens crawling around under their skin." During her volunteer shift of six hours, Rima contemplated why anyone would want to run a marathon and do that themselves. She must have found the answer,
because the next day she decided to run Big Sur the following year.
So Rima began running.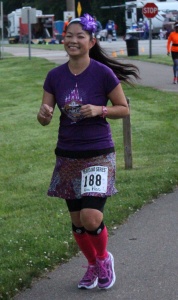 Living right next to the Pacific Ocean has many advantages, one being that it provides a great backdrop for training runs. Rima lived literally steps from the beach, and started running about three miles a day. A year later, she was ready for Big Sur. Always one to enjoy the journey as much as the destination, she stopped at many points along the marathon route to snap a photograph or six. She wanted to remember the experience; after all, it would be a once-in-a-lifetime event. (I think 99% of us feel that way during our first marathon. And then 99% of us run another.) Sooner, rather than later, you learn there is always another mountain to climb and another goal to achieve. Rima is definitely a goal-reacher: in 2015 she hit Titanium, and earlier this year hit the double-agent plateau of Mt. Everest. I asked her what her most memorable highlight has been. She answered, "Really, the biggest accomplishment and the best part of
running is all of the great (and crazy) friends I have made along the way."
Crazy is a great way to describe the runners on a Mainly Marathons course. Since 2015, Rima has been in the middle of the madness, having participated in nearly every series. She met Clint (Mainly Marathons' Race Director) at the Flying Dutchmen Marathon in the spring, and he sold her on the idea. Her first series was Heartland '15, and despite a hurt foot and torrential rains in Minnesota, she made it through. Rima has run 41 races with us in the last year and half, and doesn't plan on stopping any time soon. She
states several reasons why she keeps coming back, but this was first one: "…the crew, the volunteers, the
runners and walkers, and the spectators are all the best of people. A little on the crazy side, but that's
just relative. I definitely consider them family." You can usually find Rima alongside her "band of
brothers," Larry, Matthew and Jim. Together, they are the four musketeers, and you would regret it if you
didn't stop and share some miles with them… Especially the pretty unicorn, who makes every Mainly
Marathons race that much brighter. When we were wrapping up this interview, Rima remembered
something else. "Oh, and not to forget the other best thing about Mainly races… Norm's Triple Berry
Pancakes! Really, I just go around the loop so I can get back to the snack buffet. One race I had 13
cookies… one for breakfast and then one every loop. That was a good race… "
---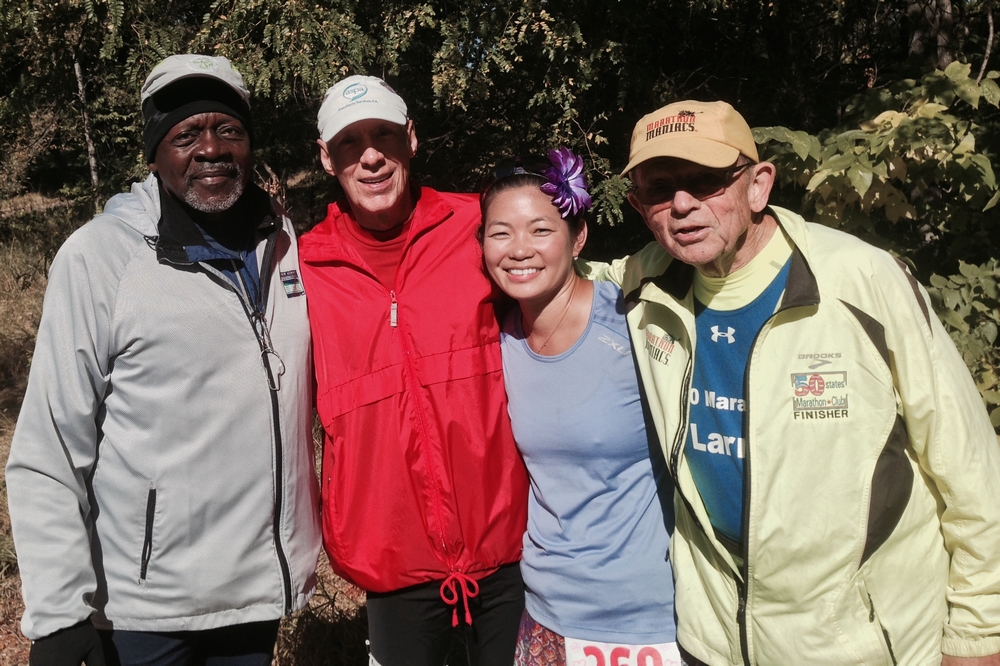 ---