January 2016: Erika Howder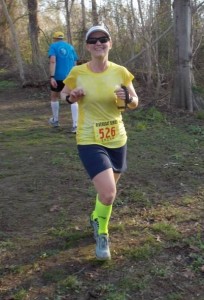 Erika Howder has been part of the Mainly Marathons family since the very first multi-state series, Dust Bowl 2013. That first series was an amazing time for all of us who participated, and the memories will last a lifetime. Erika counts the experience as one of the top highlights of her running career. She summed up her experience at the time by saying, "I've never met a more supportive group of people and can't wait to meet up with you all again." Since that time, she has participated in four other series and has signed up for all seven days of the 2016 New England Series. She is always a smiling beam of sunlight out on the course, and brightens the day of everyone around her.
Erika started running 14 years ago, after the birth of her first son, as a way to combat postpartum depression. Her first official race was an 8K when her son was five, and she participated in that only because she was talked into it by a friend. She quickly fell in love with racing and began training for her first marathon. While training, she ran a half-marathon as practice, and realized she loved that distance. Since then, she has completed 46 half-marathons (and is well on her way to running one in every state) and five full marathons; among those fulls are two Marine Corps Marathons (2008 and 2015) and back-to-back marathons at the Independence Series in 2015.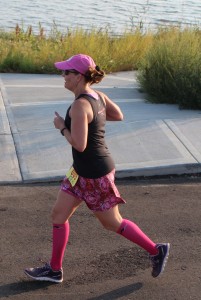 When asked why she keeps participating in Mainly Marathons events, Erika paused and answered, "There are so many awesome things about Mainly Marathons, but the main thing that makes me come back is the people. From all the wonderful staff to the runners to the runners' supporters on the sidelines, everyone is so supportive and inspiring." Erika continued, "I love that I can run with the fast kids for a while and then walk with the walkers and I never have to be alone unless I want to be." The series have now become a family affair for the Howders, with husband Tom—affectionately known as Beer Geek—joining his wife on the course. Erika is very happy about that: "…I love that this amazing group has inspired my husband to go from standing at the aid station to take pictures to walking the course taking pictures to running the 5Ks." He's become so inspired, in fact, that he will be joining her for seven 5Ks in a row in New England!
I believe Tom, and thousands of other runners, have also been inspired through Erika's blog, MCMMamaRuns.com. Launched in 2008, the blog contains hundreds of running tips, product reviews, and race recommendations, and gives the reader a glimpse of what this amazing runner is all about. Erika describes herself on the website as "a slightly obnoxious mom and wife who loves good beer and running, who struggles a bit with depression especially in the winter and when running isn't allowed, who'd rather go on a fun vacation than upgrade the kitchen or add a master bath." If you get the chance to say hi to her on the course, please do!
---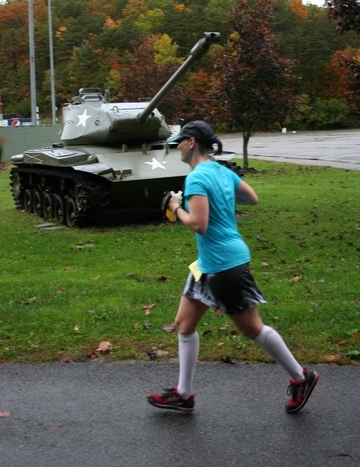 ---