July 2016: Kevin Hanna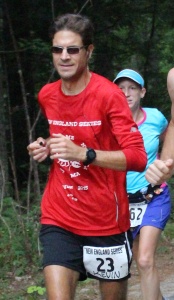 Having run 100-plus marathons and other races of varying distances, I've seen A LOT of people running. Most are out to have a good time and accomplish their goals, whatever they may be, and just take in the atmosphere of the race. Some you look at and say, "They're natural runners," because their running seems so effortless; often, these runners are very focused, and don't seem to look around them and smell the roses. Kevin Hanna is rare in that he falls into both categories, and is one of the friendliest people you will ever meet—-on the course or off—-to boot.
I recently asked Kevin if he would be interested in being this month's spotlight runner. In his humble way, but without hesitation, he said yes. His responses were full of wit, humor, and most of all humility. I simply could not tell his story as well as he can. So, though I rarely do this, here are his responses in his own words:
How/when did you get into running?
As origins stories go, it's fairly mundane. I wasn't bitten by a radioactive turtle; I wasn't gifted a pair of alien running shoes designed to make me run; there wasn't a solar eclipse that somehow mutated my genes. Instead, I had just always wanted to run a marathon and finally decided at age 26 that I wanted to run my age. I bought a book from Amazon, The Non-Runner's Marathon Trainer by David Whitsett, Forrest Dolgener, and Tanjala Kole. I picked it because I was most definitely NOT a runner and the guide virtually guaranteed a marathon finish. Using their extended six-month training program, I started off on November 1, 2003 with week 1, which was something like "get off the couch and walk around the block." I thought, "I can do that!" And the program built from there, with the opening two months designed to get my body accustomed to the mileage and stress of running, wherein I was ultimately able to go out and traverse 3 or 4 miles in one go – not necessarily running the whole time, but covering the distance. The following four months methodically built up the mileage before the last big taper to run my race. It was all part and parcel of a New Year's Resolution, so the full 4-month training meant I would be ready to run a race in late April 2004 – and Salt Lake City was doing their inaugural race at that time. It seemed like fate, karma, kismet. Their first marathon, my first marathon. And besides, I'd never been to SLC so it made it a fun adventure to boot.
I was pretty sure I was going to be a one-and-done marathoner… but my brother saw me during my training having an entire slice of cheesecake at Cheesecake Factory without ANY guilt as that was the day I had run 20 miles for the first time ever. He whispered he too had always wanted to run a marathon and I said I'd love to train with him – and thus a second marathon came to pass at the Los Angeles 20th Marathon in 2005.
I was in a pretty stressful job situation at the time and running was my one chance to disconnect from phones, email, memos, face-to-face encounters in the hallway, etc. Plus, I had begun to enjoy having an entire slice of cheesecake to myself now and again… thus my choices were to cut back on the food and drink or, ya know, keep on running. So option B won the day, week, month, year, life.
From there I was tempted by the original Rock N Roll Series of races. At the time they only had 5 or 6 races but if you ran them all they'd give you a special "Rock Star" medal and I thought, "I can do that!"
And then somebody mentioned this 50 States Marathon Club thing… and I thought, "I don't know if I can do that… but it sure sounds like a fun thing to try!"
And thus a mild mannered guy who was never that athletic became a marathoner. I don't always run the whole way… but I traverse the distances. I don't always enjoy the run – it's never easy to run 26.2 miles but some days are definitely easier than others. But I ALWAYS enjoy HAVING RUN.
Running and marathoning has redefined me as a person… I am a better person today for having run the races I have, and for having trained to run those races, than I was before I started.
I've been incredibly lucky and fortunate to do the things that I have done as a result of my running hobby/obsession… and I hope I always remember that I AM lucky and fortunate.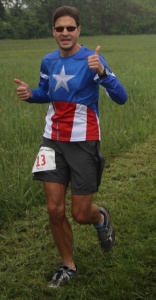 What/when was your first marathon?
As I said above, my very first official race was the Salt Lake City Inaugural Marathon in 2004. In the ensuing years, I've occasionally had people ask me why I didn't start with a 5K or a half marathon, if only in my training regimen leading up to the marathon. The truth is that never even dawned on me. I had set a goal of running the marathon and so that's what I went about doing. I think that weird laser focus is true of most runners – we get it into our heads that we're going to do something – whether it is a 5K, a 10K, a marathon, an ultra, or a multi-day series of events – and we figure out a way to make it happen. Runners are an inspiring and crazed lot – we don't know the meaning of limits or of giving up. A setback is just that – a step back to re-evaluate what was going right and what went wrong so we can build upon what we've done to do something more in the future.
What are some of your accomplishments in your running career?
One of my favorite things about running is that it's an incredibly personal thing done in an amazingly supportive, communal atmosphere. Random strangers cheer you on at a race, hoping you do your very best. Nobody is hoping you trip and fall so somebody else can beat you. Your only real competition is with the clock and yourself. Sure, sure – there's the podium standings and age group awards and all that. But I'm not sure real runners are truly motivated by accolades and awards. I think true runners are motivated to achieve their own personal best, to strive to push their own personal boundaries and see just how well they can do individually.
I generally shy away from going into great detail about how many races I've done or what all I'm trying to do for my goals. Usually if somebody asks me how many marathons I've done I typically just err on the side of saying I've run the 50 states or that I've run the 7 continents. I'm sheepish because frankly I've been incredibly fortunate to be (mostly) injury free, to have had opportunities and time to go on some crazy "runcation" adventures, and I never want to have anything I do in any way make someone feel they should say, "I ONLY am running a 10K today…" or "I'm ONLY doing a half-marathon." I think everybody is amazing who gets up off that couch and walks around the block as a means of pursuing their own goal, their own finish line. It's never ONLY a 10K. It's never ONLY a race. It's YOUR event. YOU are amazing and are achieving something many people only talk about, something they wish they were doing. YOU are not ONLY talking about doing it – YOU ARE DOING IT.
But when pressed, the accomplishments I sometimes list for my running career are:
I've run the 50 states twice… and in fact I'm a 50 sub 4 finisher.
I've run the seven continents… and even though to the best of my knowledge there's no such club I had a shirt printed that says I'm a 7+7 For the first time ever, I qualified for Boston this year in May 2016. I ran for Boston Children's Hospital in 2012 as a charity runner and raised money for them as it was my 50th state. But this year was a first for me – a PR, BQ, and a quad killer all rolled into one (it was a mostly downhill event after all – gotta take your advantages where you can!)
But perhaps my proudest accomplishment is that I continue to run – even on days when I really, really don't want to. I'm not a streak runner like some folks I greatly admire as there are days when time and space just don't allow me to run. But I run ALMOST every day – it continues to be a stress relief and a gateway to new places, new adventures, and meeting up with both new and "classic" friends and family. It sounds a little cheesy, but my best accomplishment is that when things are really bleak and rough, when it's cold or rainy or miserable, I still try and rally and lace up my shoes and get out there and run. And every time, I'm glad I did. I'm proud to say that regardless of time or conditions, I remain happy to have done a run. It's so much better than NOT having run. And that's a feeling I think only a fellow runner can truly appreciate.
What are your future goals?
I have this crazy idea in my head that I want to run wherever Bob Hope and Bing Crosby went in the classic "Road" pictures. So far I've done five of the seven. I've been on the Roads to Singapore, Morocco and Utopia (which was set in the Yukon). I've hit the Road to Rio, and traveled the Road to Hong Kong. The Roads to Bali and Zanzibar are all that remain – and though I'm really struggling with finding a still-active marathon for the former, I'm sure before too long I'll make it happen. Thus my current "personal" goal is by 2018 to finish my self-proclaimed "Road To…" Marathon Series. I continue to seek out strange, new, different, unique, beautiful, challenging marathons – I'm always up for an adventure and an excuse to visit some place, be it big or small. As part of that, I'm hoping to one day do the famed Marathon run in Athens, Greece. I think we all want to prove we're in better shape than Pheidippides. After all, too many of our friends like to remind us that the first guy to do this crazy event died. Not to get all Braveheart or Steel Magnolia on you, but everybody dies – it's how you live that really matters, right?
So my biggest future running goal? To keep on running and living. To hopefully convince family and friends to at least occasionally come with me for the adventure. To stay healthy and positive. To live and run and hopefully be happy. A bit touchy-feely and mushy but it is what it is.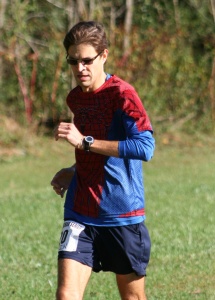 What do you like about Mainly Marathons, and what keeps you coming back?
There's something inherently pure about the Mainly Marathon experience. Part of it is that I feel like it perfectly embodies my own aspirational philosophy of running – the MM team is a chief proponent of the notion that "no runner gets left behind." There's an unparalleled esprit de corps… actually an esprit de famille… at a Mainly Marathon event. It is always a very personal achievement to run with them, and it is done in the most supportive setting ever imagined. Run a race with them and support staff will customize aid and fluids to individual specs, no matter how seemingly superstitious or crazed. I suspect that if I mentioned I didn't like blue M&Ms the next day I'd have my own personal cup of chocolate candies with nary a blue one in sight (this is just an example – I actually love ALL M&Ms… but you get the idea).
Added to the fun is that there are no prizes for finishing first; there is however a prize for finishing last each day: the coveted custom caboose toy, a badge of honor for the runner who endured the longest, struggled the mightiest, and emerged victorious. That's a spirit of the marathon that I think we all can get behind.
The organizers and staff have grown over the years but the regulars are folks who were there at the beginning in some capacity, including timing officials, chefs, photographers, and safety crew. It's a lean, efficient machine that is best described as a family. There is no better food at any race event; there is no more personal concierge running experience for non-elites. The Mainly Marathon crew treats every runner as a VIP… and it's that feeling that keeps bringing folks back day after day, loop after loop.
I've had the privilege of running a number of series with Mainly Marathons the last few years but I'd been MIA for a few of the recent ones. In 2016, my first event back was at the Independence Series and I was welcomed back like a long-lost relative. I can't think of a more positive, supportive environment for runners in all my racing experience.
After running just one event with Mainly Marathons, you can show up the next day or at another series and it's like a high school reunion; you'll be catching up and trading stories in no time. It's a homecoming. Kate and Cathy are at the timing booth; Hanne will be manning the early morning PB&Js. Clint will catch up with you to ask how things were going. Norm will be cooking or prepping something that we can enjoy as he gears up to run with us. George will be shooting photos — I love these people who love making running dreams come true. And not just for me, but for every person out there — whether it's a person running their first 5K, a half-marathoner, marathoners, or the latest addition — those hardy 50K runners.
Outside of MM events, I very often cross paths with some of the "classic characters" or "new faces." It really is like "Cheers" — everybody knows your name, they're happy to help you in any way they can to help you take a break from all your worries and help you achieve whatever your goal is. That's true of the organization and the runners themselves.
So what keeps me coming back to run round and round that black cone Clint uses as the turnaround point for the out-and-back loops? It's the people. All the people.
Anything else you'd like the world to know about you?
One of the best and hardest questions to pose to someone is, "What else would you like the world to know about you?" Rolled up in that query are things like "What do you want to be remembered for?" "What do you hope people take away from meeting you?" And of course the age old pizza commercial question, "What do you want on your Tombstone?"
It's something I'm not sure any of us can answer definitively as it changes with time and distance… just like any marathon or any race for that matter. But as I sit here collecting thoughts, reflecting on what has come before, what may be coming in the future, I hope beyond all else that people know this about me – the best parts of me come from family and friends who have supported me, have challenged me, have been there for me both in the best of times and in the worst of times. Life and marathons are very personal and yet they do not exist in a vacuum, they do not exist without other people. So the one thing I hope people know is that I'm lucky to know them – to have them in my life and to share some time, some miles, and some adventures together.
---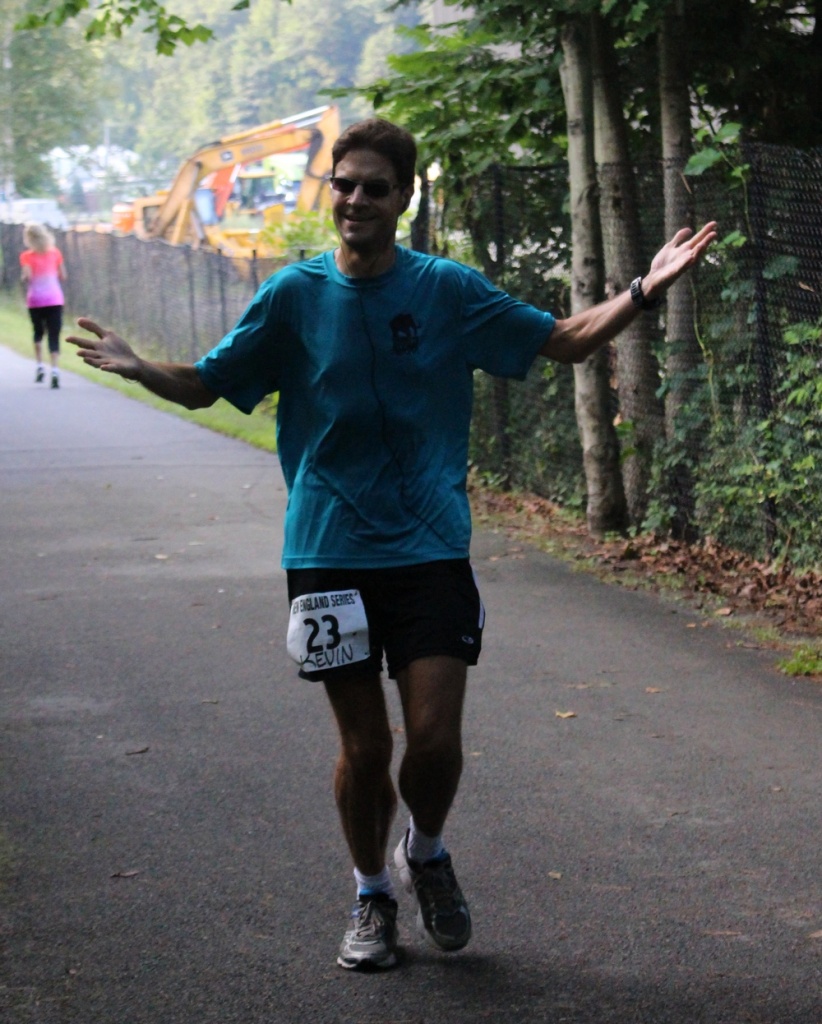 ---