May 2016: Mike Brooks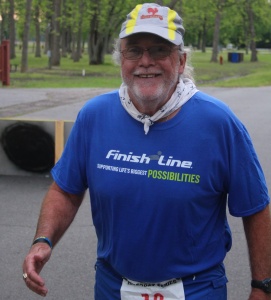 Mike Brooks likes to think and do things in a big way. His first foray into running, when he was in shape, was to run 6 miles to work. He got into shape to be able to run that far by doing a 150-mile bike ride fundraiser for multiple sclerosis. He continued running to work, slowly getting into better and better shape. Somewhere along the way, he fell in love with running. His first official event as a runner was a 5-miler in April 1995. Just before his 50th birthday (also in 1995), he ran the Bay State Marathon in Lowell, MA, where he qualified for Boston with a time of 3:38:15. He ran that prestigious race in 1996, finishing with a time of 4:16:18. In the 20 years since then, he has completed 490 more races, including 98 ultras. His longest race was 491 miles over 10 days.
But his biggest challenge was running the 2004 Badwater 135. For those not familiar, Badwater is arguably (but not by me) the hardest foot race on the planet. Participants start in Death Valley (282 feet below sea level) and run, walk, limp, and even crawl 135 miles to Mt. Whitney (elevation 8,400′). Temperatures can ran range from the 20s at night to over 120° during daylight hours. Runners have 48 hours to complete this journey, and that year only 79% finished. Mike was one of them, coming in at 46:17:10.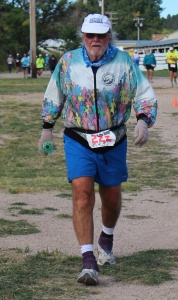 Finishing Badwater is something very few can say they've done, but Mike ran for more than that coveted belt buckle. He wanted to run for a cause, and a friend told him about Camp Sunshine. Located in Casco, ME, the camp provides retreats combining respite, recreation and support for children with life-threatening illnesses and their families. Before, during, and after Badwater, Mike raised $25,000 for the cause.
That was his first fundraising campaign for the camp, but not his last. In the years since, he has raised thousands and more for the organization he holds dear. His latest effort was to run 7 marathons in 7 states in 7 days at the Riverboat Series, at the age of 70, with a goal of raising $15,000, all of which would go to the camp. The store Finish Line promised to match funds, and with runners' support, Mike raised $15,674 (and counting). I asked Mike why the charity meant so much to him. His response: "I can't say enough positive things about Camp Sunshine. It is truly a great place for seriously ill children and their families to go for a week free. You stay in nice accommodations on a beautiful lake and much more."
Mike has run a total of 44 races with Mainly Marathons, and plans on joining us during the New England Series for more. When asked why he keeps coming back, he responded, "Mainly Marathons is like one big family, putting on races where you see people of all levels of fitness and ability. The first timers are amazing. I do not have to worry about a cut off time, you can go as you please, no one left behind. Most runners here are laid back, friendly and don't take themselves too serious." Mike asserts that it also helps that "Norm is a great cook and has a great sense of humor."
Next time you see him out on a course, make sure you say hi to Mike and ask him about Camp Sunshine. He would love to send as many children as possible to this great place. He finished our interview by saying, "If you know or have a sick child, go to their website at www.campsunshine.org and find out more. Spread the word; let's get some children there, they will absolutely love it along with their families." You can also donate by sending a check to Camp Sunshine, 35 Acadia Road, Casco, ME 04015. Please mention it is for Mike Brook's fund raiser. He thanks you!
---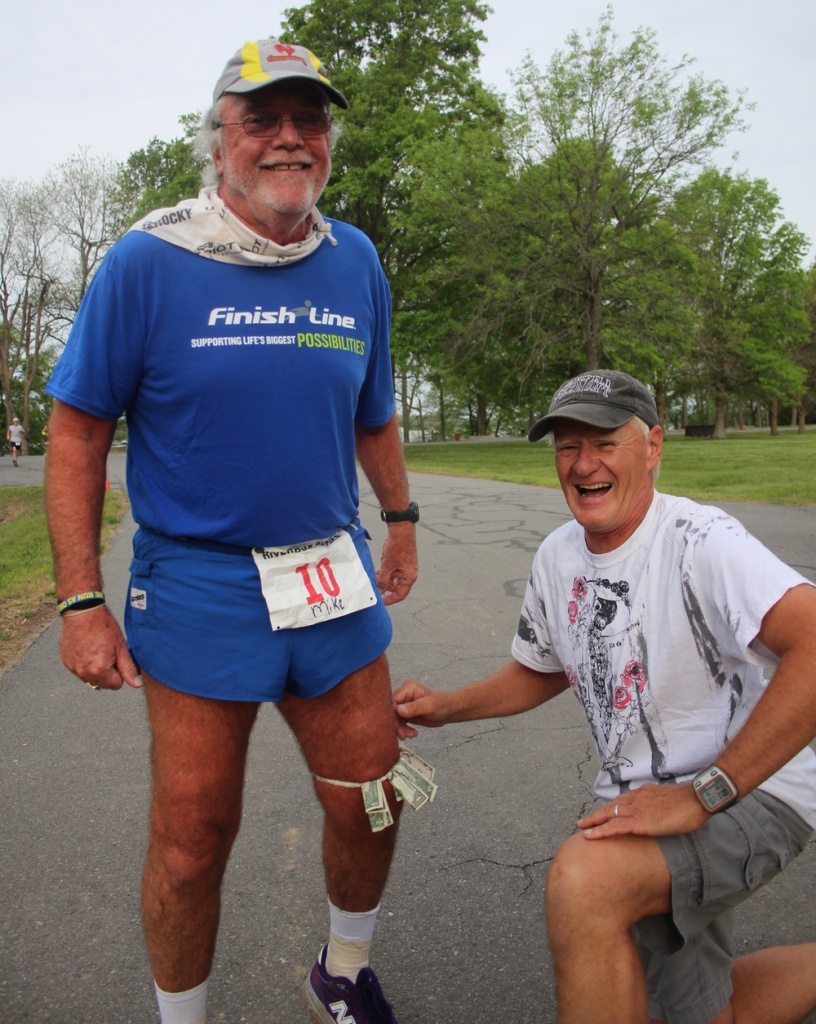 ---