November 2016: Sadaf Syeda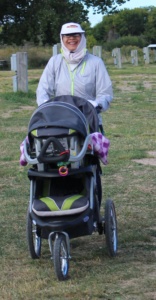 There is no doubt that a Mainly Marathons race is not your typical long-distance running event: from our award-winning chef preparing hot breakfast at the start to our award-winning medals at the end and the hundreds of happy smiling runners in between, we are very unique. The thing that really makes us stand out above other marathons, though, is our runners and their very "inclusive" attitude. No matter your age or ability, if you have the desire to finish, everyone on the course will cheer you on and make sure you accomplish your goal. To this end, one of the things we do that most other races do not is to allow strollers on the course. Many parents take advantage of this, and I'm sure it makes for some great stories, not to mention great pictures.
One such story will be that of Ishmael Baur, who holds the record for youngest "runner" on the course at 24 days of age. He completed his first half-marathon (in his stroller) in September 2015 in Sundance, WY at the Center of the Nation Series. Since then, he has completed seven more half-marathons with Mainly Marathons, with more scheduled in the future.
The person pushing Ishmael's stroller is his mother, Sadaf Syeda. Before she started running, and when she was not on her motorcycle, bicycle, or skis, you could find her jumping out of airplanes. An avid skydiver, Sadaf was looking for other sports to occupy her time while she "slowed down from skydiving to save money for grad school." She said none of the "cheap" sports she tried ended up being so cheap, but that is how she got into running. Her first official running event was a 5K in May 2009, but she didn't get "serious" about running though until she completed her first half-marathon in May 2013.She blames it all on her co-workers—a few ran with her in that first half, and she has multiple Boston Marathon runners at work who inspire her.
Like many of us, Sadaf thought the half-marathon would be a "one and done"… and, as for most of us, running became addictive for her. She started Googling for more half-marathons to run, and soon stumbled upon the 50 States Half Marathon Club. As they say, the rest is history. Sadaf now has 32 states under her belt and would like to complete the 50-state challenge in 2019, right before she turns 40.
When I asked Sadaf about her accomplishments in running, she quickly started listing all of the lifelong friendships she has made out on the course and the times she has been helped along the way, which include many of her Mainly Marathon's races. She loves the interaction with other runners on our courses, as well with the crew. She replied, "…The crew is unlike any other. They are flexible and extremely helpful. I can't imagine any other race assisting me on the course with my stroller issues, warming up baby formula, or lending me toll money…These things are simply Mainly Marathons special."
Sadaf says she cherishes all the races she has been able to run with her husband and sharing the journey with her now 15-month old son. As for future goals, she would like to run a full marathon in the near future, and perhaps a 50K. A short-term goal of hers is to run a sub-two-hour half, something she has come to but not yet accomplished. I have no doubt she can do anything she sets her mind to; she is one of the nicest and strongest runners you will meet. And as she told me, "I have a hard time sitting still and need things to keep me occupied at all times."
---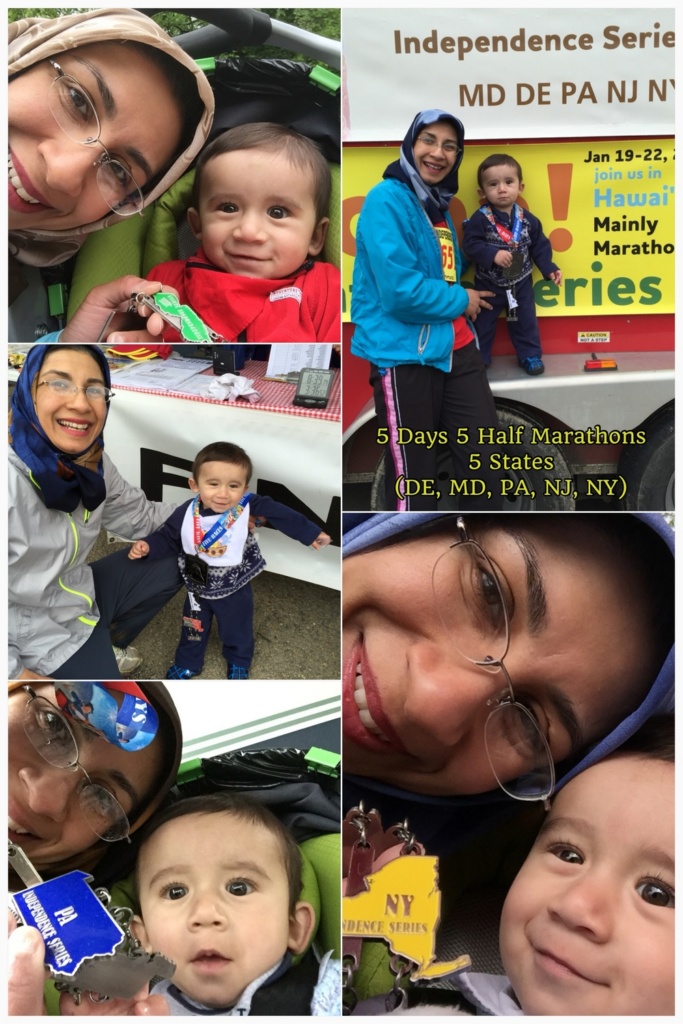 ---