October 2016: Dee Dee "Turtle" Urquhart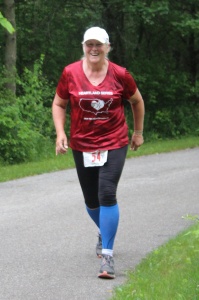 I recently asked very frequent flyer Dee Dee Urquhart if she would be interested in being a featured "Spotlight Runner." She enthusiastically said yes, and here is her response in her own words:
"I started as a "walker" in 2006. I lost a precious niece to leukemia (she was only 17) and I joined Team in Training to walk a half marathon. At the time, I could run about 10 paces and then have to stop because I couldn't breathe, even though I hadn't smoked in years. I persevered and trained my heart out even though I was "only" a walker. I loved the thrill that every weekend was another first because with the build in mileage, I was walking further and longer than I ever walked before. When I finished that first half in Long Beach California in 2006, I felt a rush of emotions that I cannot put into words, but I'm sure other walkers/runners know what I'm talking about. I knew I had to do it again!
"I trained and finished the Las Vegas Half marathon in December 2006 and decided that my new goal would be to do a half marathon every month for 2007. That's 12 half marathons in one year folks!!! Guess what? I did it! Did I mention the fact that I lost about 40 pounds along the way? I found the Half Fanatics along the way as well and loved the new goals I could set by reaching each new level. I hit the sun for the first time by running 52 halfs in a year and thought I was done. Wrong!!! I decided I would go for sun by doing 30 halfs in 30 states and that's when I found Mainly Marathons!!! I hit the sun for the second time by running 30 halfs in 30 states in a year and I thought I was done. Wrong!!!! The Double Agent club started and had this new level … Everest. The hand full of people who had done it had reached Everest by doing 30 fulls and 30 halfs in 30 states in 365 days or less. I talked to the Main Maniacs and they said I could do it by doing 30 fulls in 30 states and 52 halfs anywhere (they actually re-wrote the rules a bit for clarification on this). So … last year I set off to attempt to be the first person to do 30 fulls and 52 halfs in 299 days. Mission accomplished on September 16, 2016 at a Mainly Marathon race with the full support of SO MANY Maniac, Fanatic, and Mainlyners present.
"In the last 10 years I have pushed to try new things and so far I have not had a DNF yet. I have done Olympic Triathlons, a few metric century bike rides, 286 halfs and 43 fulls. And two months ago I hiked the Inca Trail over Dead Woman's Pass at 14,000 feet to finish at Machu Picchu after 4 days on the trail. I have gone from a "participant" to a "coach" with Team in Training, and now I'm coaching the coaches to keep the program updated and fun, and in the meantime, raising thousands of dollars to help families going through cancer treatment and towards research for a cure.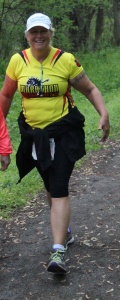 "What's next? Since I finished Everest with the Double Agents, I only need 18 states to complete a full to say I've run a half and a full in all 50 states! I'm also working on hitting 500 halfs and fulls as part of the endurance challenge with one of my clubs. I'm going to try to run 100 miles in 3 days in December for the first time. One of the reasons I love running is that whenever I reach for a goal that scares me, I conquer it and then try to think of something bigger and better. There are no limits to the things you can think of as a runner… and I haven't found my limit yet.
"In case you can't tell, I'm definitely a Type A+ personality. The bigger and harder challenge is always better in my book (for me).
"And I love that I started out as a walker. I know a lot of pure runners feel walking is easy. It's not. You are out there longer, on your feet longer, pushing yourself longer. It's hard. I love the walkers out there and the fact that no matter if you walk or run, you are part of the community of running.
"I LOVE Mainly because of the community … the family … the travel. I'm a Mainlyner with 69 races under my belt working toward the coveted 100 milestone. I've met my best friends at Mainly, and we talk almost EVERY day. They "get" me. Most everyone at a Mainly races "gets" me. People at home think I'm crazy, but not my Mainly peeps. I keep coming back to Mainly because I miss the staff, I miss the participants, I miss the rush of pushing out 7 races in 7 days. I would never think of hitting a major milestone at any other race. I NEED my 501 bib (Mainlyners should get this reference). No one can put on an organize and fully supported race like Mainly! I hit my 200 half milestone, my 50 state milestone, my 3rd sun milestone, my Titanium milestone, my Everest milestone … and I will hit my 300 half milestone at Southwest in November… all with Mainly Marathons.
"So, on October 9, I will be celebrating my 10th anniversary of running at the very same race I started …and I can't wait to see what the next decade has in store for me …."
Whatever it is that the next decade has in store for Dee Dee, we certainly hope it involves joining us for more Mainly Marathons races! Make sure you say hello and spend a few minutes with this friendly, enthusiastic veteran runner out there on the course; you'll be glad you did!
---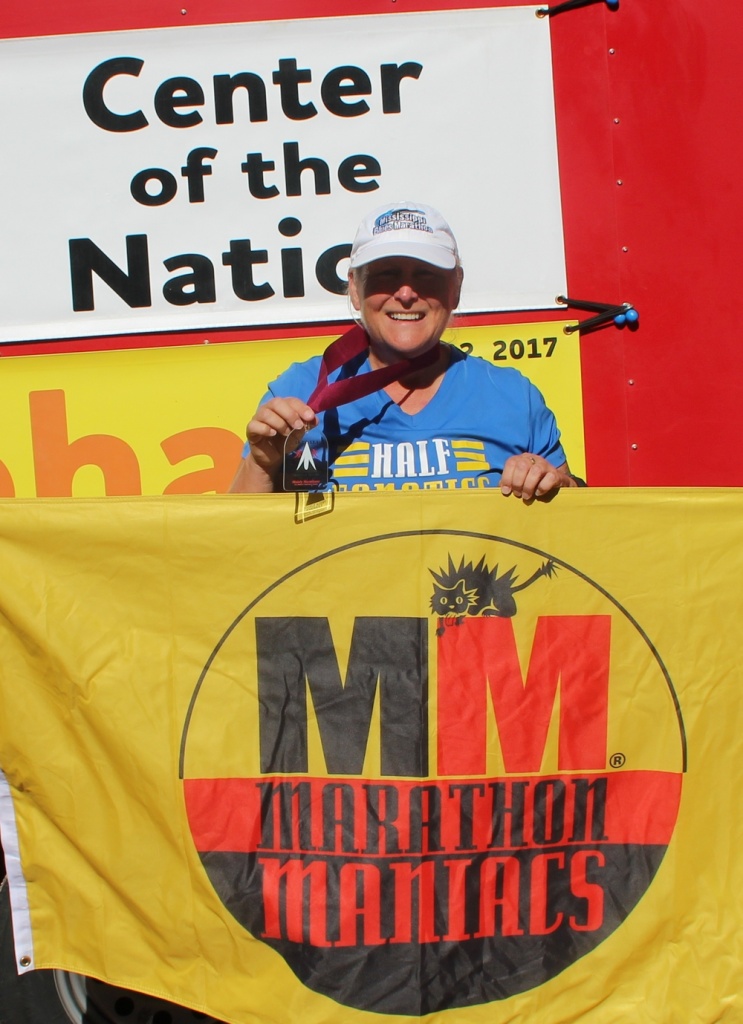 ---