January 2017: DeMorris "DL" Dean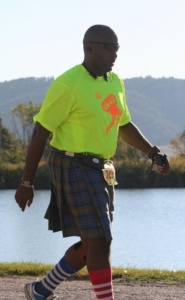 I hear the word "amazing" thrown around all the time at Mainly Marathons' events. Usually, it's in reference to the course, food, atmosphere, staff, or the race itself. What I find truly amazing about Mainly Marathons are the runners themselves. If you just count what they are doing, running long distances every day for a week—or more—at a time, and traveling hundreds of miles across several states to do it, that would qualify in most people's book as both amazing and insane. But their feats only tell half the stories of these astounding athletes. When you get a chance to talk to the runners and hear the why they are running and what inspires them, then "amazing" is taken to a whole new level. We have many blessings at Mainly Marathons, two of which are that our course set up allows you to converse and get to know your fellow runners much more than you would at any other race, and that we have so many extraordinary people on the course at all times.
One such runner is DeMorris "DL" Dean, who will be noticed in any field he participates for a couple of reasons: first, he is a large authoritative looking man; and second, he is always wearing a kilt. Those things may go together at a Scottish bagpipe festival, but they really stand out on a marathon course. The next thing you'll notice about DL is his very large, inviting smile, which he is always wearing. He is quick with humor or an encouraging word and is always having fun on the course, even if tells you he would rather not be doing what he's doing at the moment. The course is just brighter when DL is on it, and not just because of his bright colored kilts and running attire; when you engage in a conversation with him, you quickly find out he is a very motivated man.
Like a lot of runners, DL started running for a cause, one that was near and dear to his heart. His idea and goal are to change the world, one person at a time. In 2012, he founded FARST, which stands for Friends Actively Recreating to Support Transformation – "in ourselves, our communities, and society." The mission is a simple one: get people moving and participating in events in they care about to better the world and themselves at the same time. On starting his foundation, DL said, "I knew that this is something I could do—get active—and by getting involved with established races, I could spread my message of FARST." He started spreading that message with an Army ten-miler in October 2012, which he followed with his first half-marathon, the Disney Wine and Dine.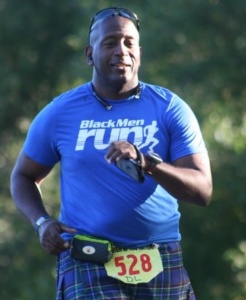 DL hasn't slowed down any since then. In the past five, years he has completed 115 half-marathons, three fulls, and five Army ten milers. In 2016, he completed his 100th half-marathon and 50th state simultaneously, at the Mayor's race in Anchorage. Later this year, he will finish those tasks again, but this time he will have accomplished the whole round in his trademark kilt. (He didn't start wearing the kilt until 2014.) Eighteen of those races were with Mainly Marathons, and there is no doubt we will see him back on our courses again in the future.
I asked DL about his Mainly experience, and he admitted that at first "it was a little overwhelming," but he quickly learned that the races were nothing like anything he'd done before. He said, "They are smaller (not tiny, but more like a family), they are comforting (the race crew get to know you by name and ask how you are doing throughout each race), they are encouraging (there is no one left behind – if you have a goal to complete your first half marathon, the race crew and the other runners will make sure that happens.)" He added, "… from an individual race perspective, Mainly Marathons races are the epitome of building an active community – this keeps bringing me back. FAMILY."
DL is the type of person who practices what he preaches, and has always been a very active part of his community. From his days in the ROTC at Iowa State University to his current position as a Deputy in the Marshall County Sheriff's office, he has been a leader by example. He will turn 50 in 2020, and his goal during that year is "to inspire 50 people to transform their lives, their communities, and their society." He himself has also been motivated by others, including his I Run 4 partner, Thomas. (I Run 4 is a non-profit organization that pairs abled bodied runners with a physically challenged youth or adult to share in the life of running and movement.) Thomas, who has Down Syndrome, will turn two this February, and DL says he's is a great motivator to keep moving.
The running future looks bright for DL. He would like to expand his horizons and start running ultras, duathlons, and maybe even a tri-sprint. The tri will not be an easy challenge, as he has a fear of deep water; despite that, he is has been encouraged by the support he has received from his Mainly Marathons family, and he is excited to try. We, too, have been motivated and inspired to do things we didn't think we could by watching DL and his "can do" attitude over the years. This is one runner who is truly amazing, and you'll want to make sure you say hello the next time you see the "Kilted Tortoise" on the course!
---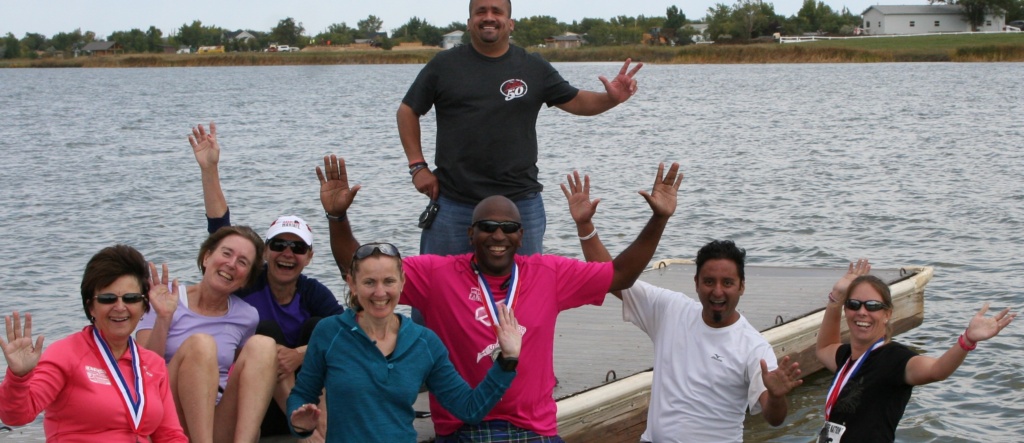 ---