March 2017: Sonny Molina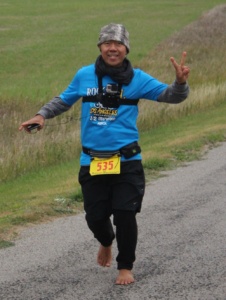 There is no doubt that most Mainly Marathons' participants are very talented people, in many differing and unique ways. Along with their "day jobs," most have skills that set them apart from your average runner. I'm often amazed at our runners' accomplishments, both on and off the course. One runner who recently gained my amazement was Sonny Molina.
I was very aware of Sonny's running talents. (He set three Guinness World Records in 2016, while running barefoot, and garnered a lot of publicity while doing so; more on that later.) What I wasn't aware of is that he is also world-class in another field: designing and hand-carving fishing lures. His designs are simply breathtaking, and enjoy elite status in many collections around the country. Some of Sonny's works can be found in the "Encyclopedia of old fishing lures made in North America (Volume 12)" the bible of fishing lures. It is worth a google search to look at some of his outstanding tackle.
When he is not making lures, obtaining black belts in Taekwondo, or working his day job as a registered nurse and team leader for the orthopedic and podiatry department at McHenry Centegra Hospital, you can find Sonny on a marathon course somewhere—which leads us back to his running and the three World Records he set last year: "Most barefoot half marathons in consecutive days," with 11, and Guinness World Records for "Most barefoot half marathons completed in a month" and "Most half marathons completed in a month," with 17.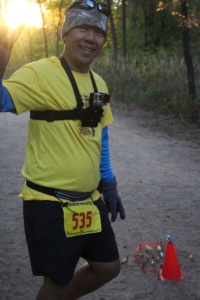 Mainly Marathons was a big part of that first record for Sonny, as he completed six of his 11 consecutive barefoot half marathons at the Center of the Nation Series in September. I asked Sonny for his thoughts on his CON experience. This is what he said: "(Mainly Marathons) is the best race company I have ever joined in so far. They treat me like a family. From the race director to the last crew, I felt like they are my own family. I feel at home. Mainly Marathons has the best food and support crew… and where in the world can you find a race where they award you for being the last runner? Mainly Marathons is an adventure, the best idea on marathons that was ever created."
What's next for Sonny? More world records, of course. He is planning to go after marathon records in 2017, including "Most barefoot marathons on consecutive days" and "Most barefoot marathons in a month." Another goal is run the most barefoot half-marathons carrying a 20-pound backpack. Somewhere in his future is being the first to run in full fishing attire, barefoot.
Though he runs without shoes, Sonny wears a lot of hats, and with each one comes a big smile. He is one of the friendliest and most humble runners you will ever meet. Next time you see him, make sure you say hi, and ask how his goals are coming along… And yes, his feet are probably a little sore!
---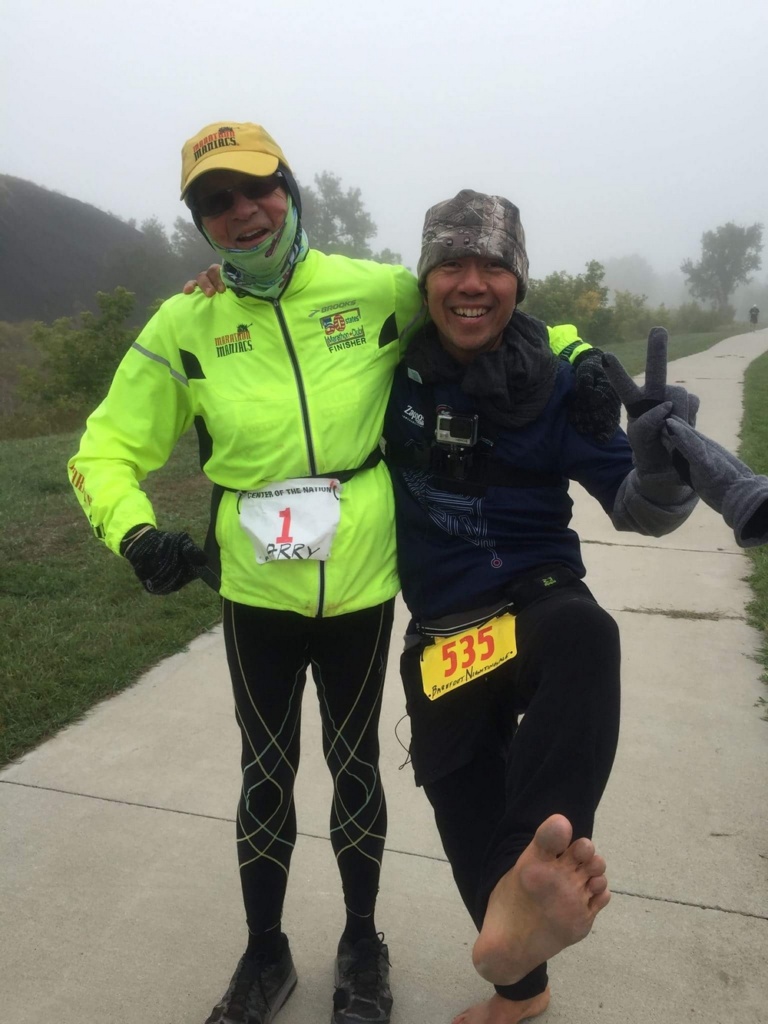 ---